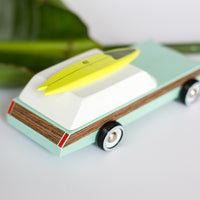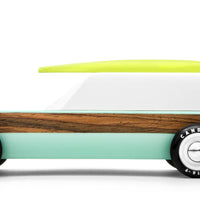 The famous classic, now in a boxier 80's vibe. With real veneer-paneled sides and a magnet embedded in the roof, it comes with a surfboard that snaps onto it. This car also features a magnetic tow hook - allowing it to hitch to our equally awesome trailer. 
Not for children under 3 years of age.
Candylab has a clear and enthusiastic mission: to make the absolute best wooden toy vehicles on the market. They're gearheads, designers, engineers, parents, and have all banded together to become toymakers, with an unflinching commitment to quality and customer satisfaction. Early on in their budding years, Candylab centered around a few core principles. They believe in the extensive use of natural materials, unique craftsmanship, and steadfast adherence to principles of the mid-century pioneers of modern design: great design should be accessible, and not reserved for luxury status.