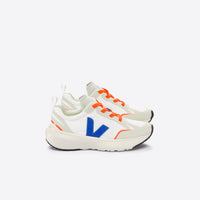 children's white canary sneakers
These classic sneakers offer a stylish and timeless look. Crafted with a comfortable rubber sole, they are perfect for running, jumping, and playing. Available in an array of sizes, they are sure to be a hit with your little one.
Veja is a French footwear and accessories brand dedicated to transparency, organic materials and fair trade sourcing. The brand creates sustainable and fashionable footwear for everyone in your family.