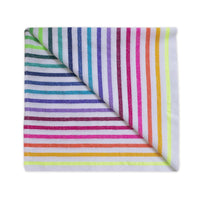 This light and lovely beach blanket is woven in Mexico, using recycled cotton and inspired by the traditional fabrics of the country.
This fabric is created to enjoy the beach but it is also ideal for picnics, to decorate your home, for tablecloth, to protect your car seats, etc. Soon, it will be impossible for you to live without having a Bayadas in your life.
Delicately machine woven in Mexico.
Size: 78-inch x 78-inch.
Care instructions: 
Machine wash with program for normal garments, max. Temperature: 140 F°, normal centrifugation.
Air dry or machine dry on delicate cycle.