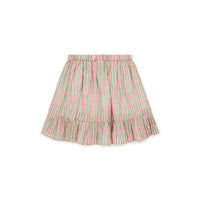 girls striped bailey skirt
This crisp, stylish bailey striped skirt features an elastic waistband offering a comfortable fit, while the ruffle detail at the hem adds a touch of contemporary flair. The striped pattern adds a unique, eye-catching touch.
The world of Bonton represents the happiness and creativity of children. The French brand pays particular attention to elaborate embroidery, prints and the use of cotton. Bonton is the only brand today that still uses over 20 unique colors made from completely natural pigments. These garments are timeless yet modern.