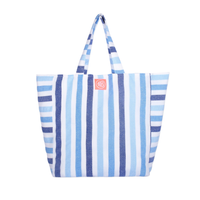 Take your day at the beach to a whole new level with the el ramon's tote bag. Whether you're heading out to the beach or just want a bag that can hold all your everyday needs, this tote is the perfect choice.
We wanted to create a perfect bag that you could take to the beach using the same technique for the creation of Las Bayadas: big, light, colorful and easy to wash.

This bag is made with the same fabric as Las Bayadas, so you can match it with your favorite Bayadas. The handles are reinforced with a special fabric to be more resistant so you can put in your bag everything you need for a beach day!

This product is made with the fabric of our Bayadas "La Esther".

*This product is made with a fabric of various colors. In its elaboration, the fabric is cut manually, giving each product a pattern that could be different from the reference image.The print pattern of the product you receive may be different than shown here.