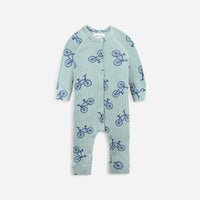 bicycle all over long sleeve bodysuit
100% organic cotton long sleeve overall. Designed with regular crotch, front snap fastening, crotch snap fastening, long length and round neck. It has a slim fit. Made in Spain. 

Spanish brand Bobo Choses creates fun clothes in comfortable shapes for kids to play with. The brand is housed in an old toy factory two blocks away from the Mediterranean Sea where they have a seriously fun time making clothes kids could live in.