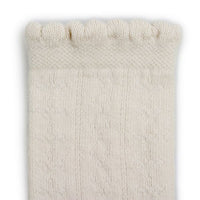 beige girls juliette socks
These girls' socks offer a comfortable fit and classic design. Crafted with high-quality fabrics, these socks provide cushioning and durability with each wear. Treat your little one to classic style with superior comfort.
Collégien is a French brand that was established in 1947. The story of Collégien is a combination of rich heritage and highly skilled craftsmanship. These products are made of the finest long-staple Egyptian cotton, cashmere, silk and extra-soft lurex.